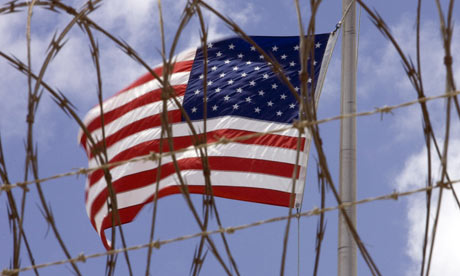 Reports are coming out today that
Guantanamo Bay
terrorist inmates are getting
H1N1 vaccines
sent to them now, before many Americans who need and want it can not get it. There have been major shortages all over the
United States
for the vaccine.
My wife even tried calling to get the vaccine from our medical provider and they said that they received only 100 doses, and those are only being reserve for people in high risk categories. They also said that an expected date was unknown as to when they would be receiving more.
American citizens who have never done anything wrong are now getting 3rd world treatment over terrorists.
Army Maj. James Crabtree, a spokesman for the U.S. jail facility in southeast
Cuba
, said "The US is responsible for the health and care of the detainee population." That is fine but make sure law abiding American citizens are taken care of first.
I am not saying that we should give them treatment, just make sure the rest of us are vaccinated first and then worry about the scum of the earth. Until there is enough for them, give them extra
vitamin C
to fight it off. Terrorists made their bed long ago. This is about life and death for many people and the thought that a terrorist gets treatment over a natural born citizen is disgusting and un-defendable.
Does this mean that we can now sue the government if a loved one dies from
swine flu
? By not giving the vaccine to citizens, because they want to protect the terrorists, this holds them liable for everyone who dies who is not able to get the vaccine.
I love this country very much, but sometimes the people who run it make me sick to my stomach. I am proud to be an American I am not proud of the Americans who are placing terrorists well being over that of other Americans. DISGUSTING!!!!!!!!!!!!!!!!!!!!!!!!!!!!!!!!!!
Related Articles
Fury over vaccines for inmates
Government defend action of giving vaccine to inmates
Fox News report on gitmo accinations
If you would like to contribute your own posts to this blog you can contact me at politicalpulsesite@gmail.com. I am open to creative ideas and welcome them.